Danoff Dental & Associates, LLP, two dental offices located in Little Neck and Great Neck, serving Queens and surrounding neighborhoods.
A palatal expander is an appliance placed in the roof of the mouth to widen the upper dental arch, which allows the arch to be painlessly separated and spread. A treatment used for younger patients. Many times a palatal expander can be used to create a proper alignment of the arches so permanent teeth have room to erupt in a natural position. Often, the use of an arch expander early may eliminate the need for braces later.
After completing orthodontic therapy, it is not uncommon to still need a little fine tuning of tooth alignment. This is particularly true in patients who have undergone extensive orthodontic therapy and are simply 'burned out.'

This retainer is useful in correcting minor rotations and crowding. When worn, the spring action of the wires provide a light force to align the teeth. The appliance is constructed to the 'ideal' setting and the patient's teeth adapt to their new position.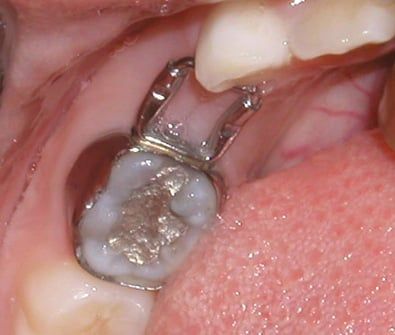 A space maintainer is a removable or fixed appliance designed to maintain an existing space. They are usually fitted to children when they have lost baby teeth early. The gap left from losing this tooth needs to be held open for the permanent tooth to erupt in its correct position.
Headgear is an orthodontic appliance attached to dental braces that aid in correcting severe bite problems. The headgear is attached to the braces and is anchored from the back of the head, neck or forehead. Its purpose is to stop the upper jaw from growing and to distalize the upper molars, hence preventing or correcting overbite. The type that is anchored on the forehead is used to medialize the upper molars, hence correcting or preventing under bite. There are two different headgears, one to correct overbite (cervical headgear) and one to treat under bites (reverse headgear). Headgear should be worn 10 to 14 hours daily, typically at night, or as directed by your dentist.
A gadget that the orthodontist gives you to wear after your braces are removed. The retainer attaches to your upper and/or lower teeth and holds them in the correct position. You wear the retainer 24 hours a day at first then at night to make sure that none of your teeth move while your jaw hardens and your teeth get strongly attached to your jaw.
A Beautiful Smile Is Waiting For You
Our office provides orthodontic services to help you achieve the beautiful, straight smile you seek. Our offices is easily accessible and makes it convenient to those living near Great Neck, New York to get the care they deserve.
Make an Appointment. Call Us Today (516) 773-4133