Danoff Dental & Associates, LLP, two dental offices located in Little Neck and Great Neck, serving Queens and surrounding neighborhoods.
BIOMET 3i OSSEOTITE ® and NanoTite Dental Implants are intended for immediate function on single tooth and/or multiple tooth applications when good primary stability is achieved, with appropriate occlusal loading, in order to restore chewing function.

Contraindications: Placement of dental implants may be precluded by patient conditions that are contraindications for surgery. BIOMET 3i Dental Implants should not be placed in patients where the remaining jaw bone is too diminished to provide adequate implant stability.
Nobel Biocare - Dental Implants
For more than twenty years, Nobel Biocare dental implants have been produced from chemically unchanged variants of commercially pure titanium. They are cold-worked for exceptional strength and durability, and all feature TiUnite, our proprietary surface that produces benefits in implant stability and bone formation.
Straumann Dental Implants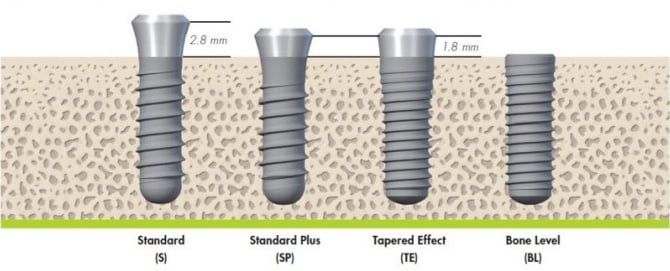 The decision to replace missing teeth with dental implants is an excellent investment in your oral health and appearance. Dental implants are now the standard of care for missing teeth. Better than crown and bridge, they look, feel and function like natural teeth. They help prevent bone loss caused by a missing tooth root and do not require the adjacent teeth to be ground down.
Long-term research has shown that Straumann implants have a high success rate. Straumann values quality and reliability, and Straumann implants are backed by over 30 years of scientific evidence.
Buser D et al. 10-year survival and success rates of 511 titanium implants with a sandblasted and acid-etched surface: a retrospective study in 303 partially edentulous patients. Clin Implant Dent Relat Res. 2012 Dec;14(6):839-51.
If something happens to your natural teeth, you can continue to live confidently with implants from Zimmer Dental. Unlike dentures and bridgework, implants are a solution proven by experience to last for many years. They look and feel like your natural teeth and eliminate the worry of slipping or coming loose.

For more than two decades, dental implants have been used successfully and are a medically proven alternative that delivers confident living. By working with Zimmer Dental, your doctor can offer you the most advanced implants and prosthetics available today.